WELCOME TO COMFY CRITTER PET SITTING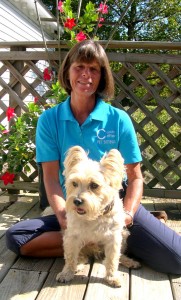 Hi! I am Colleen, founder and owner of Comfy Critter Pet Sitting since June, 2008. Pictured with me is my assistant, Cosmo Kramer.
Why would you choose Comfy Critter Pet Sitting? It's simple. I love animals! Comfy Critter is a reliable, caring, and dedicated pet sitting service. Pets are my passion. As a child, I was the one in the family to find a dog that just happened to follow me home. I was like the mailman. Every morning before school, whether it was raining, snowing, or freezing cold, I would get up early to walk our two dogs separately because they did not get along. Over the years friends would ask me or I would volunteer to take care of their pets, and friends began to call it "Camp Colleen" because their pets had such a wonderful time in my care.
Growing up and through my children I have had many different animals.
Cosmo is a rescue and my No. 1 helper at Camp Colleen.
Comfy Critter Pet Sitting is fully insured. I am American Red Cross certified in pet first aid and CPR.
Thank you for visiting my site. I hope to see you and your pets soon.